The Sabaic Online Dictionary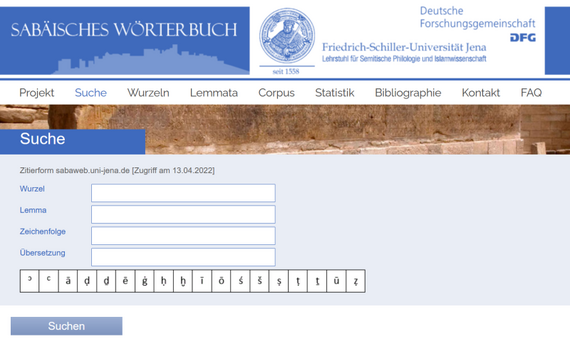 The project, which has been funded by the German Research Foundation (DFG) since 2012, aims to create a Sabaic Online Dictionary. With approximately 6,000 inscriptions and a duration of 1,400 years from the 8th century BC to the 6th century AD, Sabaic, which is native to the territory of present-day Yemen, is the best attested dialect within the Ancient South Arabian linguistic community. In addition to extensive corpora of building, dedication and commemorative inscriptions, legal texts as well as several hundred letters and economic texts written on wooden sticks are represented.
Designed as a reference dictionary, it not only offers translations of individual keywords, but also shows the user the meaning of a search term embedded in its linguistic and cultural context. By means of a detailed Sabaean text quotation and a German translation, it provides examples of the use of the respective lemma in various syntactic contexts. Older and alternative translations found in the literature for the lemma in question are also displayed. In addition, the dictionary shows parallel forms from the other Ancient South Arabic idioms and Semitic languages as well as all grammatical forms of a Sabaic word attested in the corpus processed to date.
For a complete overview of all features and contents of the dictionary, see the FAQ (in german) on the Sabaic Dictionary website.
Since the Sabaic Dictionary went online in September 2016, the lexical inventory of monumental inscriptions has been fully integrated and entries for more than 4500 lemmas have been created. Currently, the minuscule inscriptions carved into wooden sticks are being worked on. These are mainly letters and economic texts, which will expand the lexical stock of the dictionary with numerous keywords from everyday vocabulary.
→ to the Sabaic Online Dictionary (in german)